Skyrim Hearthfire: Build a house, live there forever
Are you ready to settle down in Skyrim?
Bethesda, fond as it is of short notice announcements, has sprung the next piece of Skyrim DLC on the world with just a week's notice. Dubbed Hearthfire, the new expansion focuses on the experience of being in Skyrim rather than the act of gaining experience, allowing players to buy land, build their own houses and finally have somewhere personal and unique to settle down between adventures.

Your home can be as modest or as grand as you like, though you'll need to first forage for and craft the necessary materials before you can build your hovel/shack/palace. You can then fill it with everything from useful utilities like crafting benches and Arcane Enchanters to ornaments and decorations that turn your house into a home.

And just as you like to happily march into other people's homes and help yourself to their family heirlooms, others will extend to you the same courtesy (or rather lack thereof). Protecting your homestead from bandits, thieves and marauding wildlife will be just one of the challenges of maintaining a decent home life, though followers can be left to look after the place while you're off killing dragons. Or picking mushrooms. Or collecting plates. Or indeed whatever it is you like to do in Skyrim.

You can even adopt children to keep you company on those cold winter nights and while raising a family isn't exactly something we ever expected to do in Skyrim, it's certainly going to be an interesting addition and one in which less aggressive Dragonborn will revel.

Hearthfire is available on Xbox Live Marketplace now, priced at a most reasonable 400 Points. And hey, if you're still playing Skyrim almost a year on, it's probably about time you settled down there anyway.

Still not sure? Here's the official trailer for Hearthfire. And pay no heed to the narrator – he makes it sound far more boring than it actually is…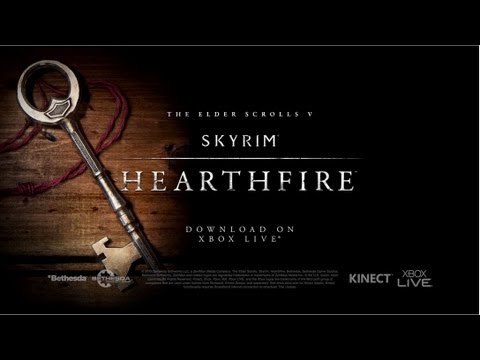 Related Articles
Check out the latest issue of X360 for all the big news as well as exclusive content on all the biggest Xbox 360 games. Available on iPad and other digital devices and at all good newsagents!
Follow our
to find out about all the latest XBOX 360 news, reviews, previews, interviews, features and a whole more.