Future Soldier: Presenting The Pinnacle Of Tactical Action
Tom Clancy's Ghost Recon: Future Soldier is Ubisoft's chance to remind players just why the Ghosts do it better than anyone else…
We ain't afraid of no, er, tactical operator
If there's a greater frustration in videogaming than teammates popping into your line of sight for a quick 'hello', we're yet to hear of it.
Time and again, our daring raids on fierce military strongholds have had their illusion interrupted by a modern-day Private Pike deciding he'd like the optimal view of proceedings, i.e. yours.
After Mass Effect 3's broadly successful experiments with controlling your accomplices' actions via voice alone, the very act of suggesting specific routes may very become more old hat than a very old hat.
With this in mind, Ubisoft's French studio is currently hard at work slotting together AI routines that need less player interference when orchestrating that perfect kill. Not only because orchestrating every last soldier on the field of battle is a touch laborious, but also it's actually not all that realistic.
Faced with the kind of multiple execution scenario required when a group of assailants are holding valuable hostages, it turns out Navy SEAL teams won't pay much attention to where their operatives actually are. So long, that is, as the line of sight to the target is maintained.
In this sense, while manually inching men around the terrain might make gamers feel like they're actually in control of something, trusting highly trained professionals to do their job provides a more accurate simulation. Hence, the option to take on missions as a group of four human players might lead to outbreaks of fourth wall smashing – and not just because of the corpse-humping, either.
Elsewhere, Future Soldier will offer normal stealth warfare thrills – after briefly flirting with practically every gung-ho shooter to have appeared since GRAW2. A good thing, too.
Put simply, we've had plenty of opportunity to follow the man these last few years – without an ability to call the shots yourself, the Ghost Recon series loses that which makes it unique.
Splinter stealth
Parallels will inevitably be drawn between Future Soldier and Ubisoft's most recent Splinter Cell outing. For starters, ARG-style environmental text reveals objectives by literally writing them across the sky. Second, tagging enemy combatants for death is Mark And Execute in all but name. Finally, many of Conviction's stealth animations have transferred directly from Sam Fisher himself, making crawling around someone's bins appear infinitely more glamorous than it actually is.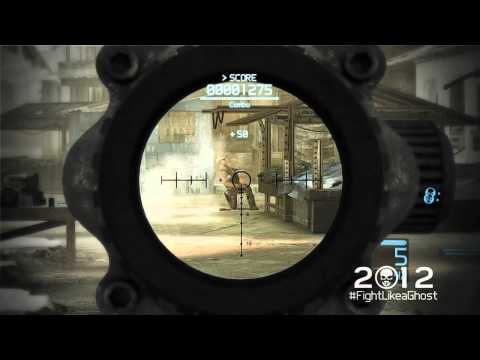 An arsenal of untold power
RC drones will allow gamers both the chance to mark upcoming enemies or alternatively distract them, flanking the poor sods while they attempt to shoot down a robot.
Sonar grenades will provide a similar function, exploding in a pulse of sound, pinpointing the locations of unseen enemies.
Creeping slowly or lying prone activates a cloaking device whose use – oddly – isn't capped at all, allowing players to creep like the breeze.
X-ray vision also allows foes to be located, for some reason – though the buildings and cover objects concealing them aren't revealed via this method.
Scan And Execute – Future Soldier's take on Sam Fisher's stealth execution technique, similarly operates without limits. Where will the difficulty come from?
Related Articles
If you liked this article, there's plenty more where that came from. You can download the latest issue of 360 Magazine (also available in all good newsagents) through iTunes to your iPad or iPhone for just £1.99 per issue. Bargain!
Follow our
to find out about all the latest XBOX 360 news, reviews, previews, interviews, features and a whole more.