Lazy Devs: Stop Asking Us To 'Follow The Man'
Call Of Duty, Battlefield 3 and Homefront constantly asks you to 'Follow The Man', but is this concept making developers lazy and leading gamers into a world where corridors are disguised as streets?
Follow The Man: It's the most common objective in modern shooters, right behind 'release nuke' and 'shoot one guy while I shoot the other guy'. Is it time, though, to put FTM to pasture?
It's a matter of some disappointment for us here at the 360 Magazine office that there will soon be a generation of gamers for whom the term 'videogame' conjures up images of some decorated military man's rear end, and a dot in the far distance.
For this is the first, the last, and it seems the intermediate command during the world's fastest-selling videogame. And the three before it.
And a host of shortened, simplified imitators since. We can't be the only gamers out there to now inwardly groan when that initial HUD command pops up, as we stare down what's essentially a tunnel made of buildings.
It's time to ask the big question: should this simplifying gameplay mechanic be put to pasture? Let's look at the evidence.
During the course of this hardware generation, the Follow The Man (FTM) template has been responsible for altering console shooters in several profound ways.
For starters, it has single-handedly diverted the Battlefield series from the team-based, expansive combat it had so gracefully mastered, towards the same barely explained, globe-trotting blockbuster experience Call Of Duty offers purely, it seems, out of fear.
Speaking more broadly, developers have clearly felt the pressure to compete with this industry benchmark and in so doing reduced experiences as varied as the invasion of America by North Korean forces, James Bond's comic exaggeration, and an assault on modern-day New York, to feeling like exactly the same videogame.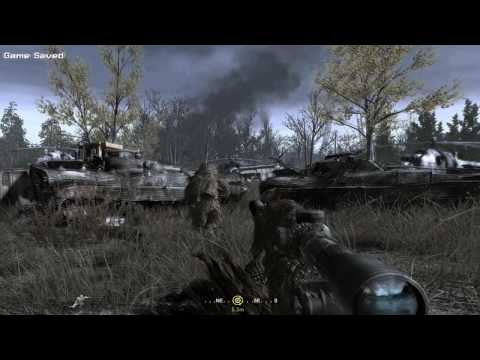 In short, this highly regimented gameplay structure has succeeded only in homogenising each shooter's experience – as heading to point Y with character X and killing everyone in sight changes little along barriers of race, setting or culture.
This comes before you consider the stalling effect on a game's pace, including mechanics that allow more and more content that would previously have been categorised as pure exposition to be deemed gameplay instead.
All because we're setting down the injured, sprinting through a war-torn village with which we cannot in any real way interact, or just listening to an NPC's inane conversation during scenes during which we're supposed to be concentrating on stealth.
Naturally, being led by the nose through a series of set pieces reduces the load an intuitive level design would otherwise bear and sacrifices huge quantities of player agency for the sake of a Pavlovian reward structure.
Game rings bell, you eat food. If the 360 Magazine forum is any measure, public opinion is beginning to sway against its inclusion.
Despite such obvious advantages as a uniformity of experience for each individual player, the lack of irritating screen furniture and the fact your game can be understood by a cake of less than average intelligence, surely it's now time developers explored alternative delivery methods?
If you liked this article, there's plenty more where that came from. You can download the latest issue of 360 Magazine (also available in all good newsagents) through iTunes to your iPad or iPhone for just £1.99 per issue. Bargain!
Follow our
to find out about all the latest XBOX 360 news, reviews, previews, interviews, features and a whole more.